We provide home solutions for you
Let us help you through the planning & building process
PLANNING STAGE
CONSULTATION
Let's meet to go over your requirements. We can offer advice on options for your block layout and the home types suitable for your land.
We will also discuss the options available for building your home on-site or off-site by taking in consideration of the remoteness, travel costs, land access and environmental impact.
DESIGN & PLANS
We currently have a portfolio of 22 designs to get your ideas flowing OR bring your own design.
Our portfolio will give you an idea on pricing and helps you keep to budget. Fixtures and fittings standards are the same with all our homes. Our draftsman will draw up your final design for approval.
FINAL DETAILS
Once the plans have been finalised we will orgainse the Thermal Performance Assessment and discuss available options to maximise energy efficiency. We will take care of the engineer certification, soil testing, building certification and building insurances. Schedule of financial payments will be explained in detail as we go over the building contract.
WE CHECK ALL THE BOXES
BUILDING PROCESS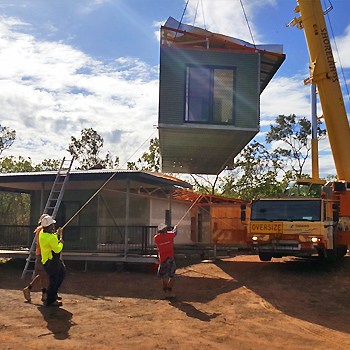 HOME MODULES PREPARED
Each module for the home has the floor framework rigged up at ground level and the building of the home begins from the ground up. Plumbing outlets and electrical are one of the first additions. Walls are insulated and clad in ply to increase the energy efficiency of the home. The roof and ceilings are fitted. Downpipes, gutters are all attached as well while the module is at ground level.
Cabinetry and wall linings are fitted in each separate module.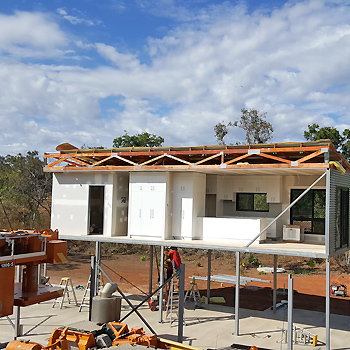 MODULES LIFTED INTO PLACE
Each module is prepared for lifting and transportation (if required). Roof sheets are removed to access the lifting appendages. Crane lifts the module accurately into place then the team fixes the modules to the stumps / columns.
Each module has to be built square, straight and strong for this process to be completed efficiently.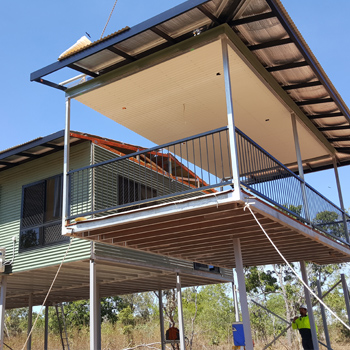 MODULES JOINED
Once in place the modules are joined and sealed. The plumbing and electricity are connected.
Painting, flooring and other final touches are completed internally while stairways and final fixtures are added externally.
The final fit out of the home once the home is stumped is usually approximately 1-2 weeks.